---
C.R. Fahey
Comic Artist. Writer. Illustrator.
C.R. Fahey (Casey) is an Artist, Writer, Amateur Dungeon Master, and recovering Paranormal Romance Addict from New York.After earning her degree in Studio Art, she naturally followed up with abandoning the gallery space in favor of chasing whatever shiny indulgent project ideas came to mind and packing them (and many many hard drives) full of magic, monsters, fantasy goodness, and all of the LGBT+ themes and characters she didn't get to see nearly enough of growing up.
Their work so far includes...
"Avibus", an experimental learning experience of a first comic that ran from 2014 to its unfortunate hiatus in 2021

Saints'Quarter, an urban fantasy series that began posting in October of 2016. Volumes One and Two were Kickstarted for print in the springs of 2020 and 2021, respectively. Volume Three is currently posted on a weekly basis on the comic website.
Convention Schedule:
---
---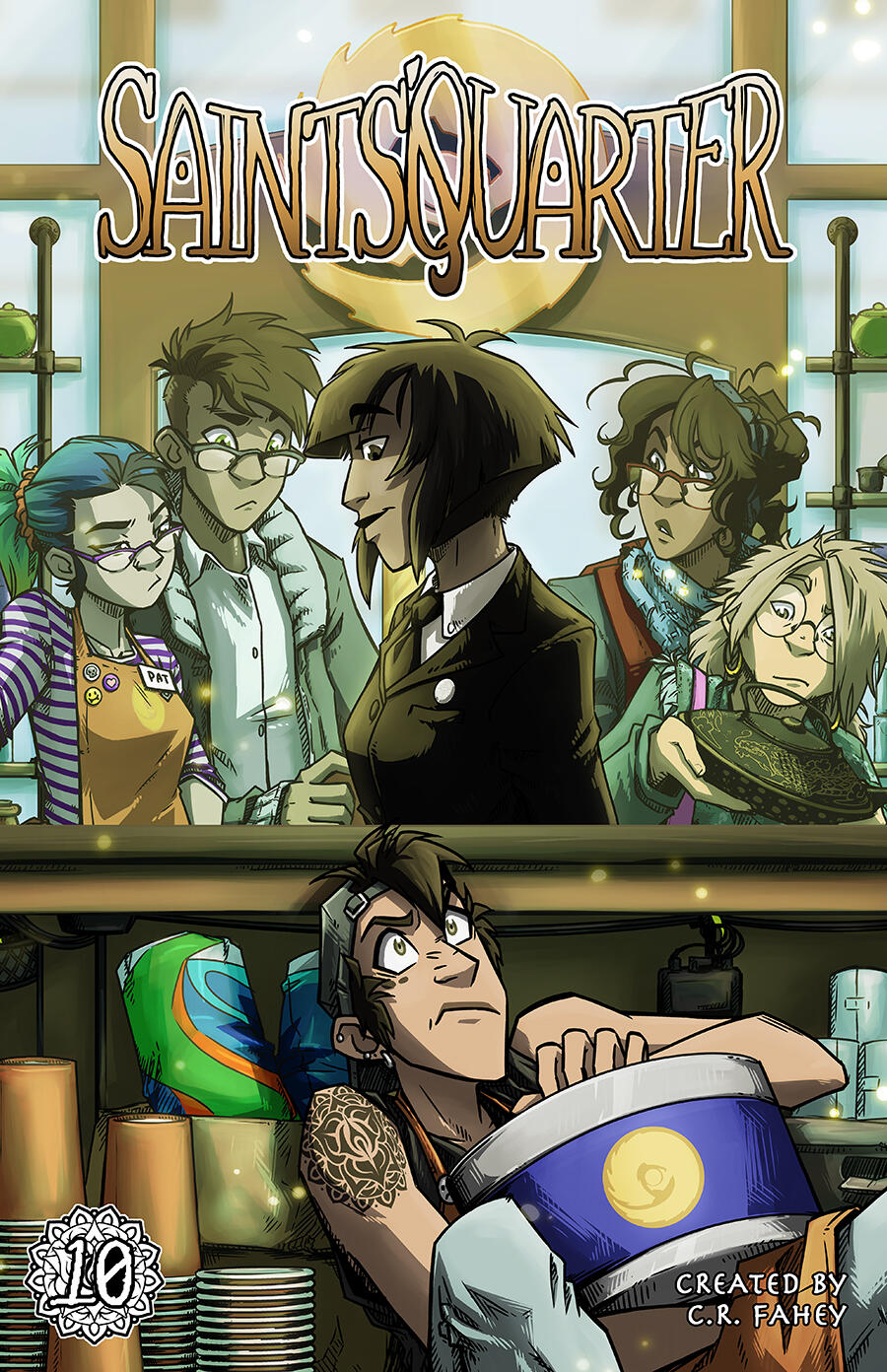 Saints' Quarter
A series about an odd little neighborhood between Brooklyn and Queens, NY, and the people magical, non, or Otherwise, who live there.
When two new residents move into the 'Quarter with the help of their witchy cousins, they find themselves in the middle of stranger and stranger happenings, even by the standards of their new home.Read the Webcomic! Or...
"Avibus"
After bringing home a strange
homeless girl named Scarlet, Kelley Russo discovers a fascinating hidden world of cryptids and legends.
But she is far from welcome.Read the Webcomic!
Currently on Hiatus! Subscribe to the Newsletter for updates as they come...
---
---
My Shop
My primary storefront.
Get comics, ebooks, stickers, enamel pins, prints, & more!
Etsy
Preferable for international buyers or folks who want a little bit of tracking with their stickers.
RedBubble
Get various designs on shirts, mugs, tapestries, and plenty of other cool items to decorate your space!
---
---
Commissions are Currently:
Case by Case
Have questions about a commission in progress or a new idea?
Feel free to email me!
I should be able to respond with a quote range or timing estimate within 36 hours.
---
---
Contact Me
Questions about my work? Commissions? Wholesale?
Just want to say 'hi?'
Feel free to send me an email through the form
to the right and I'll get back to you ASAP!