---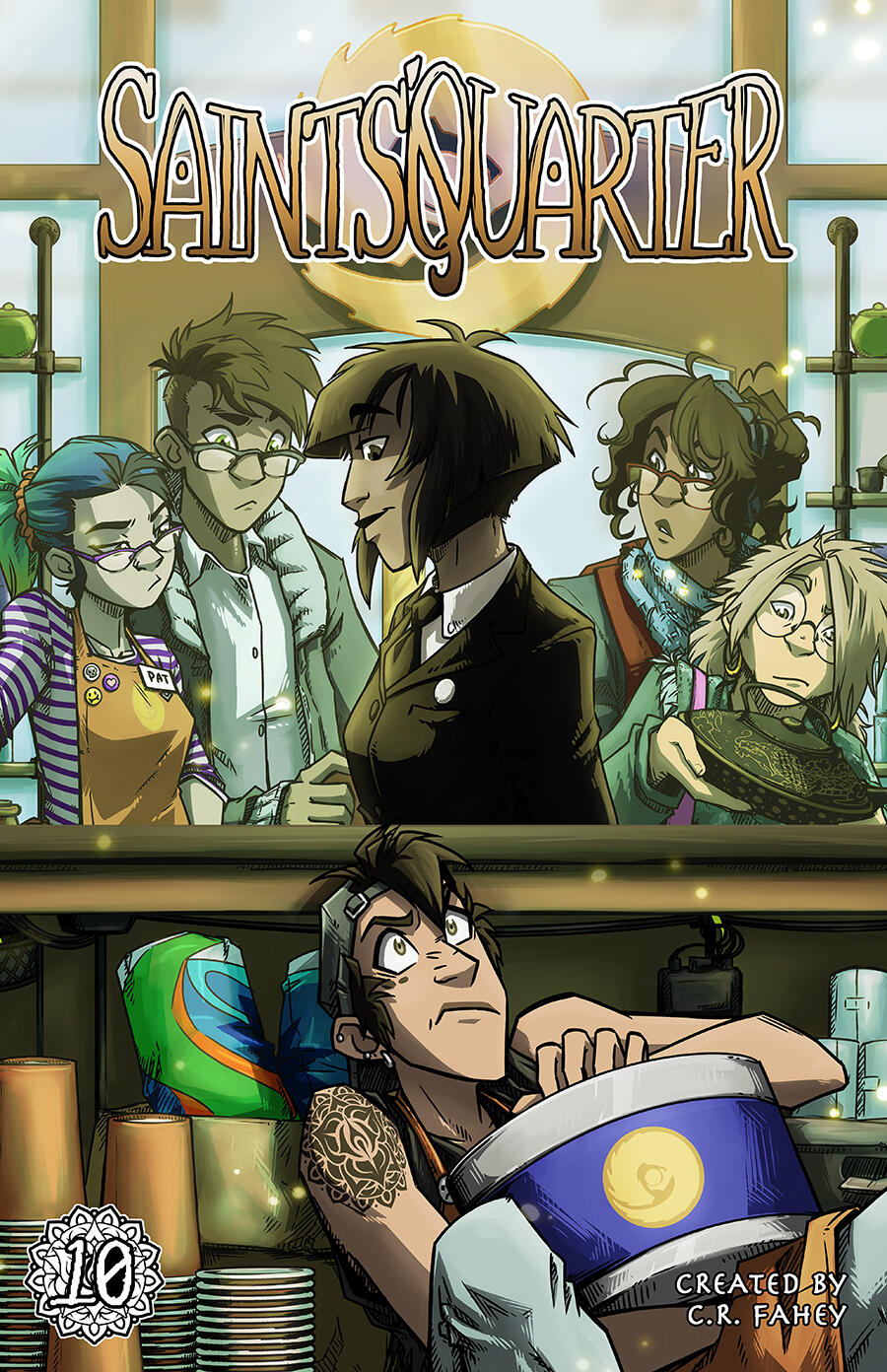 Saints' Quarter
A series about an odd little neighborhood between Brooklyn and Queens, NY, and the people magical, non, or Otherwise, who live there.
When two new residents move into the 'Quarter with the help of their witchy cousins, they find themselves in the middle of stranger and stranger happenings, even by the standards of their new home.Read the Webcomic! Or...
"Avibus"
After bringing home a strange
homeless girl named Scarlet, Kelley Russo discovers a fascinating hidden world of cryptids and legends.
But she is far from welcome.Read the Webcomic!
Currently on Hiatus! Subscribe to the Newsletter for updates as they come...
---
---
C.R. Fahey (Casey) grew up in Eastern North Carolina, where she earned her Bachelor's in Studio Art and Creative Writing at UNC Chapel Hill. Living now in New York as a recovering Paranormal YA Romance addict, she works as a writer and independent artist while pursuing self-driven study in philosophy, visual storytelling, and functioning like a proper adult.Current works by C.R. include:
"Avibus", an adventure fantasy comic that began posting in August of 2014. [currently on hiatus for major rewrites and development]

Saints'Quarter, an urban fantasy series that began posting in October of 2016. Volumes One and Two were Kickstarted for print in the spring of 2020 and 2021, respectfully. Volume Three is currently posted on a weekly basis on the comic website.
Convention Schedule
| Event | Location | Date/Time |
| --- | --- | --- |
| Winter Con 2022 | RESORTS WORLD NYC | March 12-13 10:30am - 7:00pm |
| Brooklyn Comic Con | THE BREEZE, Brooklyn, NY | June 11-12 12:00pm - 7:00pm |
| Flame Con 2022 | TIMES SQUARE SHERATON NYC | Aug 21-22 2022 |
| TBD | TBD | TBD |
Contact Me...
---
---
---
Commissions are Currently:
OPEN!
Current delivery range: August 31st-September 15th
General Pricing
The listed price are a general guide. Final quotes will vary depending on project details. All pricing is in USD.
Commissions offered include, but are not rigidly limited to, the following categories (examples coming soon):Clean Sketches, starting at $30 USD
Included:
- Up to 2 initial characters
- Setting detail (optional, but recommended as this category assumes a scenario)Artwork is cleaned up from initial roughs and complex design elements are simplified for time.
Rudimentary greyscale or cross-hatching man be added as part of the cleanup. Accent colors are included in the price if requested. (example: red bows, yellow eyes, or green stripes on a shirt.)
Extra characters and rough color can be added upon request for $10 USD each.
Additional panels, creating a 'strip', are $15 USD each.Portraits, $15-$75 USD
Portraits are on a sliding scale depending on (a) Amount of character shown, (b) Level of rendering (sketch, flat color, cell-shading, dynamic lighting, etc.), and (c) Complexity of design.Headshots, starting at...
- $15 = Sketch
- $ 25 = Flat Colors (clean line art, no shading)
- $ 35 = Cell-shaded/Simple Lighting
- $ 45 = Dynamic Lighting/PainterlyFull-Body Shots, starting at...
- $ 25 = Sketch
- $ 45 = Flat Colors (clean line art, no shading)
- $ 55 = Cell-shaded/Simple Lighting
- $ 75 = Dynamic Lighting/PainterlyScenes, $45-$120 USD
Included:
- Up to 2 initial characters
- Setting detail(sketches are essentially the 'clean sketch' category above)
- $ 45 = Inks (color it yourself!)
- $ 60 = Flat Colors (clean line art, no shading)
- $ 90 = Cell-shading/Simple Lighting
- $ 120 = Dynamic Lighting/PainterlyExtra characters after the initial included 2 are an additional cost of up to 30%, depending on placement and complexity.Character Reference Sheets, starting at $100
Want a detailed ref page for your OC?
Included in refs are:
- Full body shaded pose,
- Two outfits, utilizing the main pose as base,
- Up to 3 Detail shots, such as eyes, piercings, special accessories, etc.
- Silhouette height comparison (optional)
- Color palette
- Info block (optional: Supply your own text or fill out general form you'll receive while we're ironing out the details)
- Extra poses come with an additional cost.Short Comics, $60-$200 USD per page
Comic commissions cap at 3 pages! If you are interested in discussing a longer project together, feel free to ask, but I am maxed out on such work at this point in time.
Note: Even short 1-3 page comic commissions may take longer than the standard delivery time to be finished.- $ 60 = Sketch
- $ 90 = Inks (color it yourself!)
- $ 120 = Flat Colors (clean line art, no shading)
- $ 150 = Cell-shaded/Simple Lighting
- $ 200 = Dynamic Lighting/Painterly
Terms of Service
- Progress images are available upon request and for more complex commissions, clients will be asked to look over layout sketches to approve the final designs.- Alterations to original sketches must be requested before I move on to the final piece. Changes submitted after approval would incur a revision cost for time spent.- If there is no request or preference for a specific mood or pose, I will decide on one based on what feels best based on references and descriptions provided.- City, Zip, and State of residence are required for tax purposes.- Requests are NOT accepted from clients under the age of 18.- References are required! The price guides above do not include character design. Detailed descriptions are acceptable as are comparable designs or photos on which to base visuals. If you would like to discuss character design packages, I would be happy to provide a quote based on your needs.- I reserve the right to decline a request I am not comfortable with.PAYMENT/DELIVERY- Payments are processed through PayPal.- Payment is required before work can begin! I will send an invoice once details and pricing is agreed upon and clients will have up to 15 days to pay in full.- The typical range of completion for most pieces is 7 to 30 days. The exact time depends on the complexity of the request and the amount of work I may already have on hand. A general window of delivery will be provided with your quote.- Paid work is not affected by changes in commission pricing that occurs after payment is sent.- Final files are sent through Google Drive links. Clients will receive JPEGs of their request at full resolution (600dpi), print resolution (300dpi) and web resolution (72dpi and rarely larger than 1000-1500px at the shorter side).- Files are subject to be deleted from the drop folder after 2-3 months. Clients MUST save a copy of the piece to ensure that it isn't lost!USE OF COMPLETED WORK- Commissions are accepted, charged, and completed under the understanding that they are for your personal use. Clients are NOT being given the license to use the work as covers, merch, prints, digital assets, or other potential monetary gain. Licensing CAN be discussed but will be subjected to different price ranges to standard.- Clients may edit the piece for their own use or post the piece on social media if desired so long as artist mention is included.- Artist Rights: Unless otherwise agreed upon prior to working on the piece, I may post completed works in my gallery, use them in my portfolio, or provide looks at them as examples for future commission work. Not all images are guaranteed to be publicly shared. I will NOT use your characters in merch, prints, etc of my own.- Completed work may NOT be used to creat NFTs!REFUNDS- If no progress has been made as of 14 days past the finish by date provided, a refund may be requested.- I will NOT refund completed work.REQUESTS I WILL TURN DOWN INCLUDE, BUT ARE NOT LIMITED TO:- Content including hate speech &/or harmful caricature.- Graphic nudity/overt pornography (a character simply being nude in an image does not porn make. But sexualized nudity will be denied).- Incestuous scenarios.- Underage characters in suggestive scenarios.- Characters belonging to a third party (another artist who is not the client) without that party's permission.- Pieces featuring real people, such as internet personalities or characters BASED on such. Portrait requests of clients and their loved ones are not included in this.- MOST copyrighted characters (some brands are easier to work around than others).
---